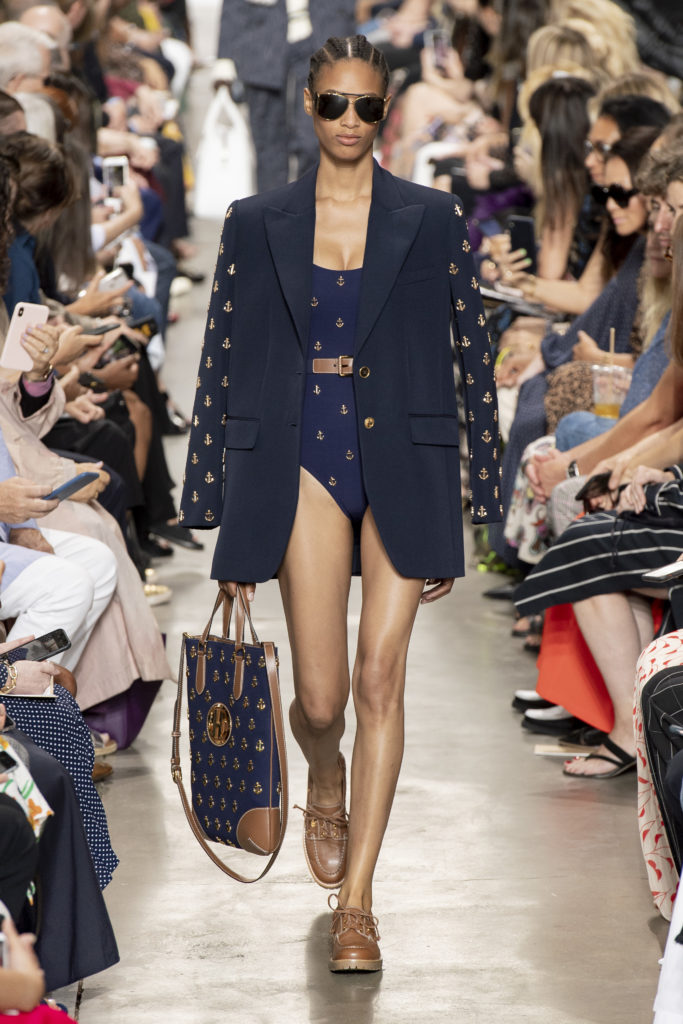 Michael Kors celebrates American classics for S/S 20
The S/S 20 season kicked off with Michael Kors looking to the past to celebrate his own American dream. He realised he'd spent his entire life in New York without ever visiting Ellis Island, a landmark that once welcomed immigrants and signified hope, optimism and new beginnings. His own great grandmother had traveled to the island alone from Eastern Europe at just 14 years old and with only ten dollars in her pocket. In passing through, she saw the possibility of a life where anything could happen, according to Kors, which went on to inspire the spirit of this season's collection.
In what he describes as his most patriotic collection to date, Kors sent pieces boasting an American maritime theme down the catwalk with sailor hats, anchor insignias that embellished knitwear and skirts, fisherman jackets and nautical stripes and buttons, seen on classic navy blazers. These looks were perfect for sailing the East River, where many guests found themselves on their journey to the show this season. While Kors' family grew up in a tenement building in the Lower East Side, they dreamt of moving across the river to Brooklyn, which is where this collection was shown. Guests boarded NYC waterway taxis which shuttled them between Pier 17 in the Seaport to Brooklyn's Navy Yard.
Kors set out to design clothes that ushered in positivity amidst our deeply divided society. Items featuring the word "hate" with a strikethrough stretching across it signified a celebration of unity and camaraderie. Inspired by an image of his grandmother from the '40s when "women were rule breakers", as he put it, the collection celebrates strong women and nods to America's history as the place where great sportswear was born.
The collection represents the dichotomy of American style, with both punk and prep references. The #AllAmerican trend, which WGSN Feed editors have been tracking this season, emerged with denim and collegiate style pullovers that played on the 'borrowed from the boys' aesthetic. The collection also juxtaposed luxury with casual references and the romanticism of the '40s with sharp tailoring of the same decade.
The spirit of S/S 20 – from the clothes to the the ambiance of the venue, where classic American songs like Don McLean's American Pie were played – is all about celebration, positivity and optimism. "We need clothes that put a smile on your face and charm," Kors said in a press conference the day before the show. The event did just that for social audiences, helping to land the brand in the top spot for social media engagement during NYFW this season according to social media analytics company, ListenFirst.
As called out in its seasonal show notes, there are "blue skies ahead" for the brand as 2020 nears.
The post Michael Kors celebrates American classics for S/S 20 appeared first on WGSN Insider.