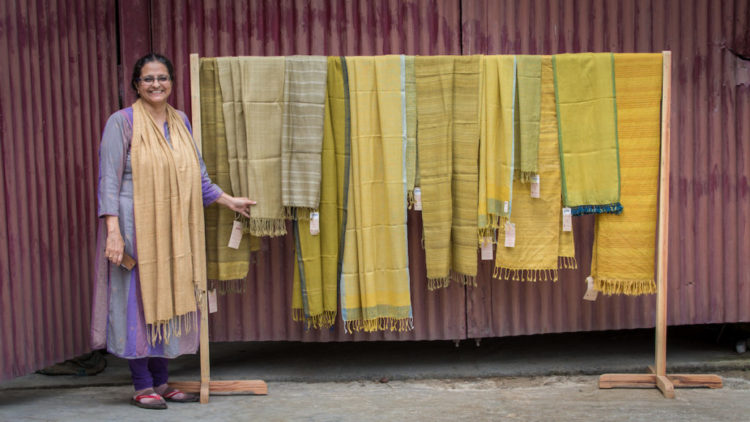 "Vibrant colour options are constantly given to us by the natural world"
Here at WGSN, we've been looking at natural dyes, both as a source of inspiration for colour but also as a possible option for a more sustainable way of using colour within the design industries. WGSN's Head of Colour, Jane Boddy, caught up with Keith Recker, a colour expert and the founder of Hand/Eye magazine, to talk about his timely new book, True Colors: World Masters of Natural Dyes and Pigments…
We know the topic of natural dyes goes deep with you. Can you tell us about when you first got interested?
Over 20 years ago, while I was at Saks Fifth Avenue, I met a natural dyer who assured me that she could match any Pantone colour with all-natural ingredients. In spite of my obvious disbelief, Michele Wipplinger later showed up at my office with several sample cases filled with hanks of wool, cotton, silk, rayon, ramie and more, dyed in a vast range of gorgeous natural colours. Her business, Earthhues.com, still sells the natural dye extracts she used. I was just knocked down by this encyclopedia of colour knowledge that was almost completely outside the mainstream.
The book is full of incredible artisans – how did you meet them?
I've been really fortunate that my retail career unfolded alongside deep involvement with non-profits like the International Folk Art Market, where I've learned so much from so many masterful creatives working with great skill – largely outside the spotlight. I founded Handeyemagazine.com to tell their stories and to bring attention to what their work can bring. Beyond their obvious skill, and the beauty of their work, they open up a door to stories of culture and nature and personal expression. Their work suggests that we could be in a constantly enriching conversation with what we wear and what we live with. These people have changed my whole outlook on fashion, design and consumption – and enriched my life immeasurably.
Do you think natural dyeing is scale-able? Indigo is well known, but are there are other dyes that could work at a larger scale?
You're right that indigo is already being farmed at scalable levels. Living Blue (www.livingbluebd.com), whose indigo-based social business in Bangladesh is profiled in the book, is a force to be reckoned with. Their work with Hermès and others is certainly a testament to their quality. There are other organisations like Rubia Natural Colours (www.rubia-nc.com) which is working at some scale. Their purple logwood dyestuffs are discussed in True Colors. Adiv Pure Nature (adivpurenature.com), profiled in the yellow section of the book, uses thousands of kilos of wilted flower offerings from one of Mumbai's largest temples in their dye work. Even when supplying Eileen Fisher and others with natural textiles, they're hardly scratching the surface of the many tonnes of flower waste produced every day. Another group in the Himalayas, Avani Kumaon (avani-kumaon.org), is harvesting a harmful and invasive alien plant species from which they make greens and yellows. They too are far from exhausting this abundant resource.
We saw recently that Nike used natural dyes in the making of its Air Max 97. One of the aspects of natural dyes is the irregular effects created, which gives each item a one-off look. Design industries seem to be ready for imperfection. What's your opinion?
There's a lot of waste involved in ensuring that every product is identical to the one pushed out right before it. Embracing the gorgeous variations of natural dyeing rather than snuffing them out in the name of uniformity is absolutely a coming wave. Imagine the hunter-gatherer excitement of spotting the shade or texture that best suits you. It surely beats the numbing sameness of only one option. We were designed to perceive and to weigh the vibrant options constantly given to us by the natural world. It's time we put our toes back into that marvellous flow.
True Colors: World Masters of Natural Dyes and Pigments, by Keith Recker, is available in the US from ThrumsBooks.com and worldwide on Amazon.
The post "Vibrant colour options are constantly given to us by the natural world" appeared first on WGSN Insider.