LAb to beauty skincare
Back in July, I had the opportunity to be apart of a small group of local bloggers who got to learn first hand about a new, luxury skincare brand called,
Lab To Beauty
. My day was filled with a tranquil spa day at
Lapis spa,
located in the Fontainebleau. From start to finish, I had the most lovely experience learning all about the CBD-infused skincare line from the founders themselves. I was treated to the spas latest CBD-infused lavender massage which incorporated products from the Lab To Beauty line. Following the incredible treatment, I was treated to a tasty afternoon brunch (complimented by CBD infused cocktails of course), while simultaneously learning more about the Lab To Beauty products that we were taking home in our care package. It was easy for me to fall in love with this skincare line, considering it focuses on
clean
skin care. They believe in the pure potency of plants and that is always a value I appreciate.
Although, I've experimented with and enjoyed using every product they graciously gifted to us, it's been a few months and I've found myself really loving these two products in particular. The The Quick Fix Serum and The Recovery Oil.
Knowing my skin, it typically feels best when I follow a serum with an oil after. So this power duo is perfect for my dry skin. Though
The Quick Fix Serum
can be used in both the AM & PM, I like to apply it fresh out of the shower after washing my face. It gives my skin a plump and luscious feeling. The consistency of the product itself is gel-like, and once spread it is silky smooth, melting into the skin. I gently massage it, using a small, circular upward motion. The serum is known to reduce inflammation as well as tighten, lift, and firm. It is also one of the more moisturizing serums I've used. If my skin weren't as dry as it is, the serum would actually be hydrating enough by itself.
Following the serum, I use
The Recovery Oil
all over my face and even over my lips. The nice thing about plant powered products is that you can trust it on most parts of your body without worrying about irritation. The oil repairs and replenishes my quenched skin for a clear and calm complexion. For being an oil, it feels lightweight on the skin. It feels nourishing and hydrating while also working to tighten, lift, and firm. The oil is known to boost collagen production while also building an antioxidant and rich moisture barrier.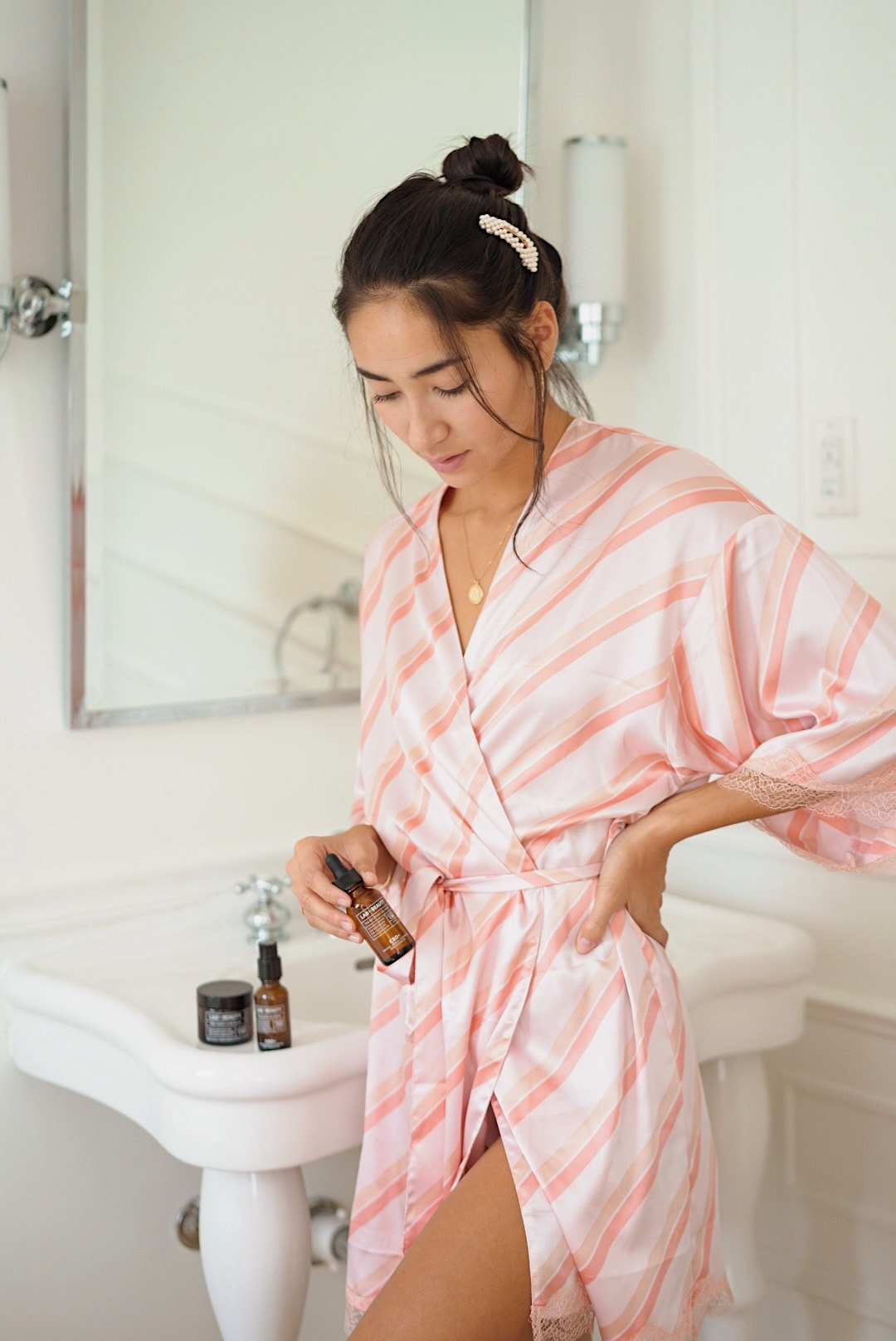 I just love applying this duo after a long day out. I can trust that the ingredients are clean and of the highest quality, knowing that they use
supercritical CO2 extraction, which avoids the use of any harsh chemicals to obtain their concentrated pure cannabidoil.
​All Lab to Beauty formulas are third party tested for purity and potency and since it is the last thing I'm applying to my face before a long nights sleep, I couldn't feel more confident about letting my skin soak in the goodness.
You guys know I only like to work with brands who share my core values so I'm happy to say that Lab To Beauty uses Sustainably Sourced, THC Free, Non-GMO CBD and that their Formulas are Vegan, Cruelty Free, and Gluten Free. The bottles are also amber glass to protect the light sensitive organic ingredients. Oh yeah, AND they use high quality recycled paper packaging. They really did think of everything.
To learn more about the company or shop their products click here.
Love, Liv
---
The article LAb to beauty skincare was posted by Olivia Pascale.
+ Read more articles on Olivia Pascale