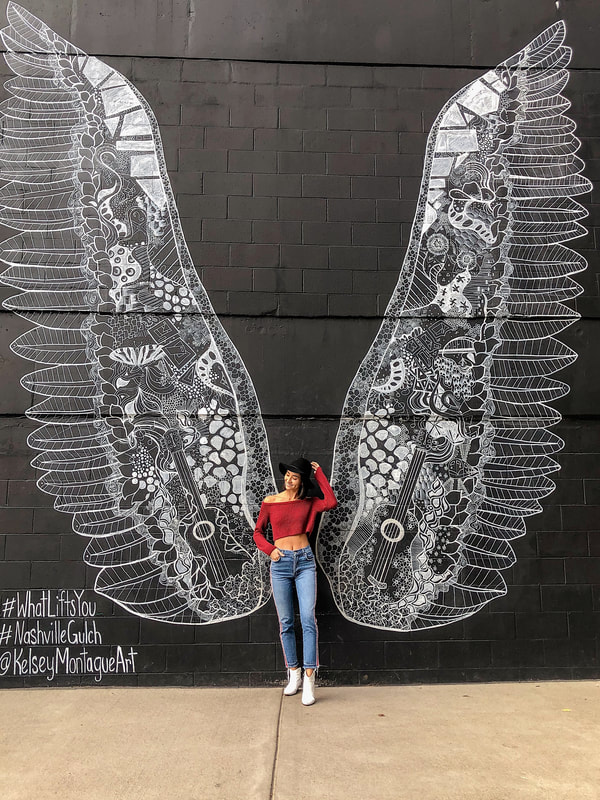 nashville, tennessee
Every so often, my friend group and I like to plan a trip somewhere together. With most of us living away from each other, we've found that taking trips together is the best way to spend time and make memories together these days. After all, getting seven girls together is not the easiest of tasks. Our first idea was to go for the cabin/campfire vibe in Georgia, but when we decided we wanted to leave the boyfriends at home and make it a girls only trip we decided on Nashville instead. Not quite sure how it happened, but it did.
All I had known about Nashville previously was that just about every country music artist was born and/or discovered there. Ironically, I hated country music growing up. I was that person who would make fun of the corny lyrics that talked about love at first sight, going through heartbreak, or growing up in a small town.
That changed when I met my boyfriend, Tyler. He grew up listening to country music so I inevitably listened to a lot of it when we started dating. The more I was exposed to it, the more I started to enjoy and appreciate the thoughtful song writing and instrumental music behind it. I realized that it was refreshing to hear lyrics that told a story or had a lesson behind them verses lyrics that glorified lifestyles lost in partying, drugs, and sex.
Since then, I have been an avid listener of country music and it's become one of my favorite genres. So, when Nashville was the decided destination, I was all in. YEEHAW.
The mutual decision was to drive to Tennessee from South Florida in a rental car. It was the best decision for us because we actually
wanted
to be stuck in a car with each other for 12-14 hours. If that's not the case for you and whoever you're traveling with, I probably wouldn't recommend it. lol. Our trip was 5 days, but 2 of them were spent driving. So essentially we had 3 full days to take advantage of Nashville.
We stayed at the cutest little Air bnb that was perfect for our 7 person group. I will include the link to where we stayed
Broadway is the strip in downtown that's notorious for it's live music bars and country music celebrities being discovered. You can't miss it from a mile a way, the strip glows with neon signs and music pours out from every bar on the street. They call it NashVegas for a reason. The cool thing about the bars is that they all have 3 floors with different live music on each level. So, if you're not feeling the music, just head upstairs (or downstairs).
We started at
(Photo by John Greim/LightRocket via Getty Images)