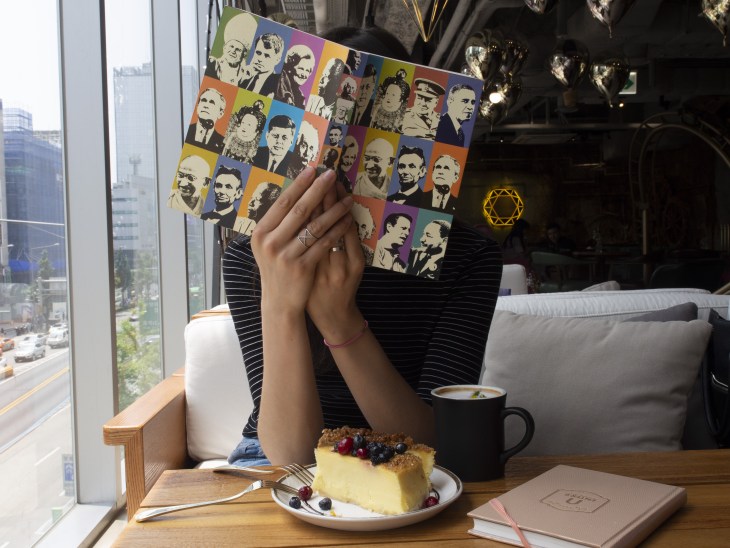 5 Best First Date Cafes in Seoul
"Let's continue this awkward silence in person"
First dates can either be great or horrible.
There are few in betweens, I've come to learn. The thing that is first and foremost important for having a great date is having, well, a great date (in the person sense of the word.)
Perhaps one of the worst first dates I have ever had ended up being my date talking about himself for over three hours. It was almost like being held hostage, except you must maintain a look of moderate interest while your captor demands not fabulous jewels or bribes but your absolute attention.
However.
Those kinds of dating pitfalls aside, perhaps the second most important thing when it comes to planning that first date is where it should be held. Who is to say she will appreciate a day at the petting zoo? Maybe she's allergic to llamas. So you think he'd love a thrilling ride at Everland, something to get the adrenaline running on the T-Express? Turns out he had a traumatic experience on the teacups ride at Disney World.
In my humble opinion, there are fewer safer places for a first date than a good, old-fashioned cafe. Comfortable seating, no time limit (within reason), hot drinks (which scientifically are said to create warmer feelings), and good music. There's no pressure to have a meal together, and if the date is going poorly, one can easily excuse themselves after an hour or so without looking as though they are cutting things short. A cafe is the sweet spot for first dates.
As we all know, there are so many cafes in Seoul worth visiting; but do they have just the right vibes for a nice first date? Let me help you there. In not specific order, here are the Cafe Hunter picks for Best 5 First Date Cafes in Seoul.
1. Saint Ives – Hapjeong (Classic / clean)
I found this cafe via their instagram. First of all, let it be said that their Instagram is simply beautiful. You can see it here. I visited for a Cafe Hunt not too long ago and was impressed by the clean, bright interior. If you're looking for classic, look no further. Saint Ives has just the right kind of seating for a good date. There are couches by the windows; wide windows through which warm sunlight streams in. Or you can choose to sit at the back, where the tables are a little smaller and more private. Wherever you do sit, there are windows everywhere, letting in the light. A bright, beautiful space makes for a happier mood. For more information on Saint Ives, see my Cafe Hunt post here.
Location:
마포구
독막로
5
길
23
, 2
층
Mapo-gu Dokmakro 5 gil 23, 2F

Hours: M-Sat 11:00 am to 11:00 pm
♥
2. Eert – Seongsu-dong (Unique)
Located in Seongsu, Eert Cafe is a cafe of warm, wood interior and a unique menu. The zen garden style of decor instills a calm atmosphere where you can let your first date nerves go. If you're feeling peckish, they have a curious style of serving food in stacked boxes. It's a novelty, and new, shared experiences create memories, making you feel closer to each other. "Remember that time we had food out of stacked boxes? What a memory," you'll say, as you smile fondly to each other on your second date. A first date at Eert, after all, is bound to go well. A Cafe Hunt to ensue soon. In the meanwhile, enjoy these photos from the Eert instagram account.


Location: 9-17 Seoulsup 2-gil

Hours: Tue -Sun 12:00 pm to 8:00 pm
♥
3. HoHo Myoll – Sangsu (Cozy)
If you've been exploring the cafe scene in Hongdae, Hapjeong, and Sangsu area, you're bound to have heard of Hoho Myoll. I feel it is worth adding to this list due to its charming ability to delight in a quiet way. Be aware that seating here is definitely cozy and close. Sit right next to each other and lean in as you share a murmured conversation. The fairy lights create mood lighting, and the polaroid photographs and travel brochures tacked on the walls will make you dream of a romantic trip somewhere together. I recommend going sometime in the late afternoon or evening for softer lighting. See the Cafe Hunt here.
Location: 93-44 Sangsu-dong

Hours: M-Sun 10:00 am to 1:00 am
♥
4. Alocasia Flower Cafe – Sinsa (Carefree, Pretty)
Originally, I found this cafe while trying to find a quiet place for conducting an interview. I ended up coming to this cafe over four more times in the following month due to it's close proximity to my church, the kindest cafe owner, and the beautiful space. There are two floors, with all kinds of seating plus semi-private rooms furnished with couches and decorated unashamedly with flowers of all sorts. In warmer weather, the windows are thrown wide open and there is seating on the terraces on both floors. The menu is extensive and includes some things to nibble on. It's just cozy enough to feel like it's only you two there, but spacey enough to avoid feeling as though you need to cuddle up together. Explore a bit on Garosu-gil, then pop in for a cuppa. See the Cafe Hunt here.
Location: Apgujeong-ro 4 gil, 14-14

Hours: M- Sat 11:00 am to 11:30 pm
♥
5. ArcadebarSeoul – Mangwon (fun)
Cafe used to mean "a small restaurant selling light food and drinks." We can agree generally that it still contains that definition. However, some people get creative. Arcade Bar Seoul is a perfect example of that; the first arcade cafe of Korea, Arcade Bar Seoul does stick to the good old fashioned recipe of light food and drinks, but this time you can beat your date at pac-man while sipping on your latte. If sitting down and simply chatting is not enough, add some competition and excitement by heading over to Arcade Bar Seoul and try your hand at some games while getting to know each other. See more photos from their instagram here.

Location: 82 Mangwon-ro 2-gil
Hours: Sun-Thu 12:00 to 23:30 / Fri-Sat 12:00 to 24:00
♥
Wherever you end up going for your first date, I wish you all the best on making a nice connection. Or at least winning 3000 points on Street Fighter. Whatever happens, do snap a photo and tag me on instagram @sincerelybeckyw and let me see how your own Cafe Hunt goes 🙂