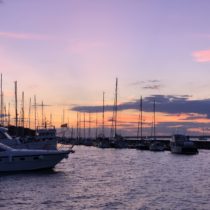 Creating Tomorrow: why the middle ground is killing magazines
How is social media affecting the print magazine industry?
It was appropriate that I heard the news about the UK edition of Marie Claire closing via Instagram. A friend I'd met when we both worked at the title 10 years ago tagged me in a post on her Stories with the news. Maybe it says something about the state of the media landscape that it didn't even warrant a main feed mention.
Instagram didn't exist when we both worked there. In fact, Marie Claire didn't even have a website when I arrived, just a holding page selling subscriptions to the magazine, a miss I was brought in to fix as its first 'online editor'. (On my first day, someone asked me if I could mend the printer, and I had to explain I was still an editor, just one who would be editing in a digital world, not a print one.)
If it had closed five years ago, I'd have probably heard the news via Twitter, but Twitter wasn't the replacement for magazines. Despite headlines at the time, bloggers weren't either. Instagram is, but not for the reasons lots of people think.
It's been death by a thousand (glossy) paper cuts.
Yes, plenty of us now get our fashion cues via the platform and our beauty recommendations from the influencers who populate it, which has most certainly contributed to those nosediving sales figures. And then there's the swerve of ad dollars onto the platform, alongside the eyeballs, quite literally sucking the lifeblood from print.
Two years ago it was the same story when Glamour UK announced it was axing its regular monthly print edition. That time I was at a wedding in Portugal, alongside more than a handful of London beauty PRs. Everyone had their Glamour story or connection. Mine, a three-and-a-half-year stint on glamour.com, back when the magazine team lived in a separate building and probably only a third of them even knew they had a dotcom version. I permitted myself a wry smile that, like Marie Claire, its digital presence that I'd nurtured many years ago would live on.
You don't need me to list the other magazines that have folded recently. I mention the two above simply because of my personal connection to them.
There's just not enough ad money left in the print world to sustain the number of titles out there. But the world wide web isn't to blame for that. If that was the case, the number of TV channels would have decreased, when quite the opposite has happened, and billboards wouldn't exist either.
The real reason magazines are dying is down to our expectation of what's entertaining or informative. We have come to appreciate the very short – the YouTube video and the Instagram post – alongside the long and in-depth – the binge of an entire boxset, a Netflix documentary. It's the stuff in the middle that has been edited out.
It's why we snack on news headlines online during the week, but still buy the Sunday papers for leisurely browsing at the weekend. A lifeline, albeit one that won't in all likelihood last all that much longer for the broadsheets.
It's why Apple TV+ has snapped up feature-length documentaries like The Elephant Queen to stream, and why the soon-to-launch, short-form mobile video platform Quibi raised $1 billion at concept, and has almost as many star names attached as Apple.
Mark my words – the middle ground is nowhere to play when it comes to entertainment today.
On the road: destination of the week
On home soil again this week, or home water at least: the Isle of Wight, where the 6, 9 and 11-year-old were in charge of the schedule, which included a visit to a toy shop, a bus ride to a llama farm and finally a restaurant where you cook your own food. Thankfully there was wine available at two of the three and a beautiful sunset to sail home to.
On my desk: product of the week
I mentioned a few weeks back that while I flirt with other foundations I always come back to It Cosmetics' CC Cream. Well, I've found something to rival it in my affections, although for reasons that will become clear quite quickly, I will be back to my regular fairly soon. The Japanese skin and beauty brand Clé de Peau is launching in the UK this month and I managed to my hands on its Radiant Fluid Foundation. It is exquisite, and I'd quite like to write that in caps. It honestly felt like I was smoothing water onto my skin. Unfortunately, it also costs £105, so I am choosing to wear it selectively. That I tested it out on a day I went to visit a herd of llamas notwithstanding.
Cle de Peau
You can follow Carla on Instagram, Twitter and LinkedIn.
For the latest trends, follow WGSN on Instagram, Facebook, LinkedIn and Twitter.
The post Creating Tomorrow: why the middle ground is killing magazines appeared first on WGSN Insider.