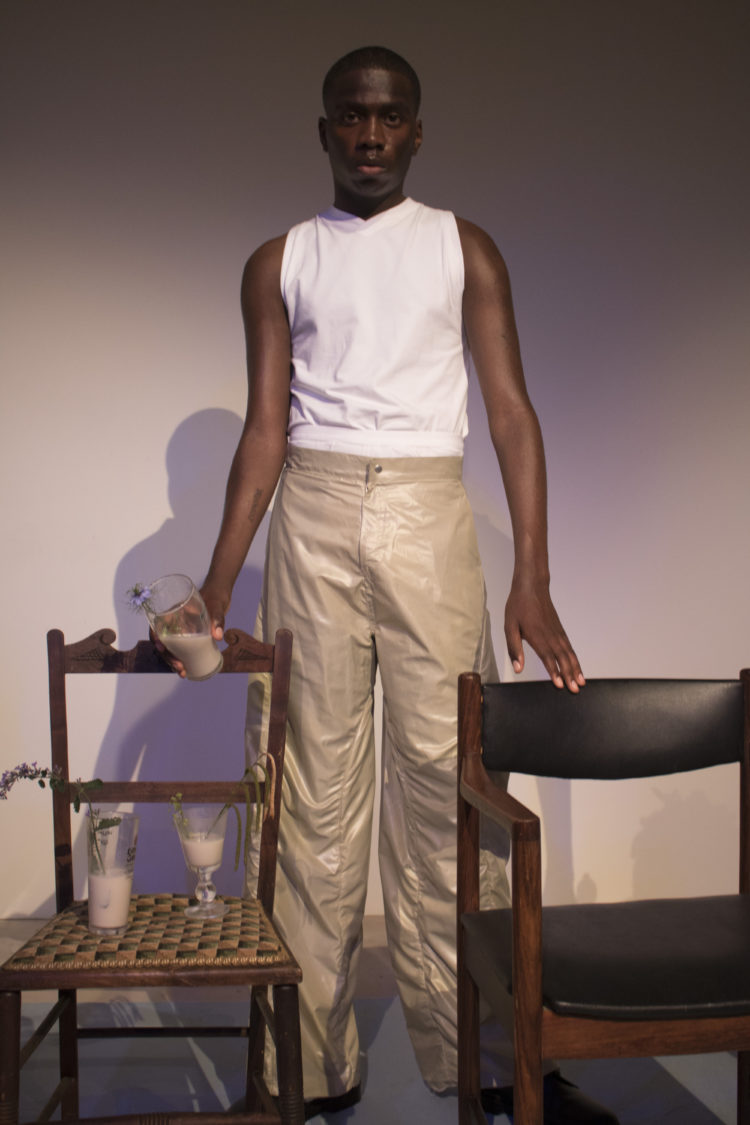 A/W 19: London calling – designers to watch
The men's fashion season is in a strange state of play.
An increasing number of established, fashion heavyweights are showing menswear offerings within the women's calendar – and it's leaving some noticeable absences.
It's something that's particularly apparent in the London schedule, with the absence of bigger names also caused by a flux of designers shipping off to Paris – or Pitti – once more established (see J.W Anderson as a recent example).
However, in this trend lies opportunity. Space for emerging designers to truly showcase their talent is London's calling card. A new roster of designers are pulling from their heritage and their concepts of identity to create exciting and rule-bending collections.
Here's who we think you should be watching as A/W 19 gets underway.
Bianca Saunders
Royal Collage of Art graduate Bianca Saunders made her debut in the menswear calendar last season and, with it, provided a candid exploration of black masculinity.
A multi-disciplinary approach sets Saunders apart, as last season saw her produce a film to run alongside her S/S 19 collection, and she places real emphasis in the research end of the creative process.
The result is a statement that goes beyond the clothes themselves – Something that feels particularly timely in an era where conversations around clothes can transcend fashion itself, and comment on societal themes and current affairs.
Her upcoming A/W 19 show this season is held with MATCHESFASHION.com, soon to become her stockist.
Paria Farzaneh
It's not the first time we've flagged up Paria Farzaneh as a one-t0-watch.
An off-piste presentation in a Persian restaurant in Queensway was a WGSN highlight for A/W 18, and a prior guerrilla show held outside the BFC space had also captured our attention.
Iranian born, Paria holds her cultural roots at the core of her brand DNA, and produces collections that fuse an Iranian heritage and a British upbringing. Last season was her first showing within the formal calendar, and A/W 19 sees her move from a presentation format to a fully-fledged show.
Mowalola Ogunlesi
Fashion East has been responsible for nurturing real talent across the mens and womenswear space. From Liam Hodges, to JW Anderson, their sponsors have seen serious success. As a result, any fresh designers are worth watching.
A menswear and print graduate from Central St Martins, Nigerian psychedelic rock acts as her main design influence. Her graduate collection saw us transported to a retro-future Lagos petrol station – with car badges and logo mania to boot.
In her own words, her approach to design is centered around "a celebration of the black African male: his culture, sexuality, and desires". Collaborative projects so far have included designing outfits for both Skepta, and Nigeria's World Cup team – all helping to generate some serious buzz around her break into the formal calendar.
With present ones-to-watch in mind – look further ahead this season, with WGSN's Big Ideas 2021: Menswear report.
The post A/W 19: London calling – designers to watch appeared first on WGSN Insider.